অর্ডার করতে পারছেন না? ভিডিও সম্পূন্ন দেখুন…
• উপরের এই প্যাকেজ গুলো শুধুমাত্র Bangladesh সার্ভারে Top Up করা যাবে। অন্যান্য সার্ভারে টপ-আপ করতে এখানে ক্লিক করুন
• Diamond নিতে শুধু মাত্র আপনার Player ID Code টি লাগবে ।
• Player ID Code ভুল দিয়ে Diamond না পেলে কর্তৃপক্ষ দায়ী নয় ।
• Delivery is given within 2 Min to 10 Min.
• We accepted bKash, Rocket & Nagad (NO NEED SEND MONEY COST).
•  কোন কারনে পেমেন্ট এর টাকা Refund নিলে মোট টাকা থেকে 5% কেটে নেয়া হবে।
How to Top-up Free Fire Diamond?
Select the Diamond denomination.
Enter your Free Fire Player ID (Make sure you add right Player ID).
Select quantity and click Buy Now button.
Enter your name, Email, and Phone number.
Check out and select your payment method.
Once payment is made, the Free Fire Diamond you purchased will be credited to your Free Fire.
How to Find Free Fire Player ID?
Follow these steps:
Open the game.
Tap on your profile located at the top left corner of the main menu.
You should find your Free Fire Player ID under your username.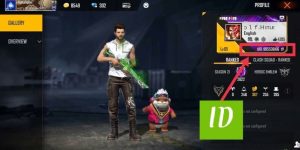 What is Free Fire Diamond?
Free Fire Diamonds are the premium currency in Garena Free Fire, allowing you to directly purchase the cosmetic items you want or gamble them in hopes you'll get what you want cheaper using the Luck Royale feature.
ABOUT GARENA FREE FIRE :
Android Garena Free Fire is the ultimate survival shooter game. Each 10-minute game places you on a remote island where you are pit against 49 other players, all seeking survival. Players freely choose their starting point with their parachute and aim to stay in the safe zone for as long as possible. Drive vehicles to explore the vast map, hide in trenches, or become invisible by proning under grass. Ambush, snipe, survive, there is only one goal: to survive.
How to Get Free Fire Elite Pass?
You would need some Free Fire Diamonds, so make sure you've top up on those. Log into the game and click on the banner for the Elite Pass. Click Upgrade, confirm and that's it!
Free Fire Diamond Top up BD :
Free Fire Diamond allows you to purchase weapons, pets, skins, and items in Store. Plus, you can participate in Luck Royale and Diamond Spin to obtain various unique character skins, weapon skins, weapon upgrades, and even cosmetics.
With over 100 secure payment options, buy and receive your code instantly. There is no need to go through the App Store or Google Play Store anymore. Simply redeem your code and buy all the characters, weapons, and skins that you want!
How do I get Free Fire Diamonds?
The main way to get Free Fire Diamonds is by purchasing in the mobile game itself. You can also exchange them against FF Tokens and Garena may give you some of it. Also, you can purchase Free Fire Diamonds by purchasing them with Garena vouchers. It saves you time and money!
Buying Garena Free Fire Diamonds is the best way to ensure you advance fast and assert dominance in Free Fire Battlegrounds! Quick and convenient, the Free Fire Diamonds code makes sure you can acquire the in-game currency. All you need is an active Garena account and the game on your mobile. Activate the digital Garena voucher code anytime and anywhere.
What can be Top-Up from Jubaly?
Form Jubaly you can Top-Up Free Fire Diamond Bangladesh, Free Fire Diamond Global, Free Fire Diamond Indonesia, Free Fire Level Up Pass BD,  Free Fire Membership BD,  PUBG Mobile UC, Free Fire Monthly Membership, Mobile Legends, CLASH OF CLANS, SAUSAGE MAN, VALORANT POINT, ROBLOX ROBUX, CALL OF DUTY BC, LIKEE DIAMOND, BIGO DIAMOND 
People Also Search For
 free fire diamond,
Free Fire Level Up Pass
, free fire diamond top up, free fire diamond hack, free fire diamond hack generator, free fire diamond hack 99999,  free fire diamond top up bd bkash codashop, free fire diamond top up bd bkash low price, bd free fire diamond top up, free fire diamond top up nagad, garena free fire diamond top up,
Free Fire Monthly Membership
, garena free fire redeem codes, free fire advance server,  garena free fire redeem codes website, free fire top up bangladesh, garena free fire top up diamonds free, bd game bazar.com free fire top up