এই প্যাকেজ গুলো থেকে সকল অঞ্চলের সকল সার্ভারের Free Fire আইডিতে Diamond Top Up করতে পারবেন ( শুধুমাত্র ইন্দোনেশিয়া, মিনা, তাইওয়ান, ভিয়েতনাম,ইন্ডিয়া  সার্ভার বাদ দিয়ে )
Indonesia সার্ভারে টপ-আপ করতে এখানে ক্লিক করুন
Bangladesh সার্ভারে টপ-আপ করতে এখানে ক্লিক করুন
Diamond নিতে শুধু মাত্র আপনার Player ID Code টি লাগবে।
Player ID Code ভুল দিয়ে Diamond না পেলে কর্তৃপক্ষ দায়ী নয়।
Delivery is given within 2 Min to 10 Minutes.
We accepted bKash, Rocket & Nagad (NO NEED SEND MONEY COST).
কোন কারনে পেমেন্ট এর টাকা Refund নিলে মোট টাকা থেকে 5% কেটে নেয়া হবে ( পণ্য ডেলিভারী হয়ে গেলে রিফান্ড গ্রহনযোগ্য হবে না )।
How to Top Up Free Fire Diamond?
Select the Diamond denomination.
Enter your Free Fire Player ID (Make sure you add the right Player ID).
Select the quantity and click Buy Now button.
Enter your name, Email, and Phone number.
Check out and select your payment method.
Once payment is made, the Free Fire Diamond you purchased will be credited to your Free Fire Account shortly.
How to Find Free Fire player ID?
Follow these steps:
Open the game.
Tap on your profile located at the top left corner of the main menu.
You should find your Free Fire Player ID under your username.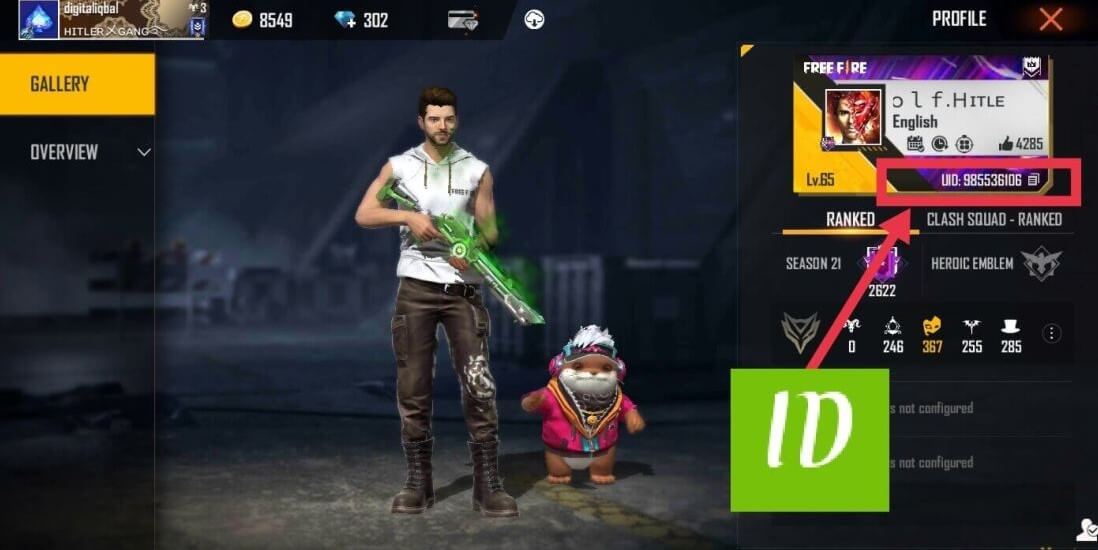 Brief About
G
are
na
Free
Fire
Garena Free Fire is an online battle royale game developed by 111 Dots Studio and published by Garena. The game was released in 2017 and is currently available on both Android and iOS platforms.
In Free Fire, players are pitted against each other in a 10-minute match where they must scavenge for weapons and resources, fight each other, and survive until the end. Players can choose from up to 50 unique characters, each with their own unique abilities. The game has a variety of game modes including Battle Royale, Clash Squad, and Ranked.
The game also features a variety of customization options, allowing players to customize their characters to their hearts' content. Players can also purchase in-game items to further customize their characters and improve their performance.
Garena Free Fire is a popular battle-royale game that has amassed a huge following since its launch. With its exciting gameplay and wide range of customization options, it's no surprise why Free Fire has become so popular.
How to Get Free Fire Elite Pass?
You would need some Free Fire Diamonds, so make sure you've top up on those. Log into the game and click on the banner for the Elite Pass. Click Upgrade, confirm and that's it!
Free Fire Diamond Top Up BD :
Free Fire Diamond allows you to purchase weapons, pets, skins, and items in Store. Plus, you can participate in Luck Royale and Diamond Spin to obtain various unique character skins, weapon skins, weapon upgrades, and even cosmetics.
With over 100 secure payment options, buy and receive your code instantly. There is no need to go through the App Store or Google Play Store anymore. Simply redeem your code and buy all the characters, weapons, and skins that you want!
How do I get Free Fire Diamonds?
The main way to get Free Fire Diamonds is by purchasing the mobile game itself. You can also exchange them against FF Tokens and Garena may give you some of it. Also, you can purchase Free Fire Diamonds by purchasing them with Garena vouchers. It saves you time and money!
Buying Garena Free Fire Diamonds is the best way to ensure you advance fast and assert dominance in Free Fire Battlegrounds! Quick and convenient, the Free Fire Diamonds code makes sure you can acquire the in-game currency. All you need is an active Garena account and the game on your mobile. Activate the digital Garena voucher code anytime and anywhere.
What Can be Top-Up from Jubaly?
Form Jubaly you can Top-Up Free Fire Diamond Bangladesh, Free Fire Diamond Global, Free Fire Diamond Indonesia , PUBG Mobile UC, Mobile Legends, CLASH OF CLANS, SAUSAGE MAN, VALORANT POINT, ROBLOX ROBUX, CALL OF DUTY BC, LIKEE DIAMOND, BIGO DIAMOND