Welcome to Clash Royale World, where strategic gameplay and epic battles await! In this thrilling mobile game, mastering card-based combat art is crucial to rise through the ranks and claim victory. But to unlock the most powerful cards and upgrades and fully unleash your potential, you need an abundance of Gems. Gems are the coveted currency in Clash Royale.
That's where Jubaly.com comes in. Jubaly is your ultimate destination for Clash Royale Gems top ups. We understand your burning desire to outshine your opponents and dominate the Arena. Considering your need, Jubaly will provide you with a seamless and convenient way to acquire Gems.
Jubaly.com prioritizes its user's security and privacy. Your payment details and personal information will remain safe and private with our top-notch encryption technology. You can trust us. We will provide you with a secure environment for your Clash Royale Gems top-up needs.
How To Top-Up Clash Royale Gems?
Follow the easy steps below to top up Clash Royale Gems:
From the available denominations, choose your desired Gems value

Then enter your Player Tag.

After that, select the Gems quantity and click the "Buy Now" button.

Now enter your name, phone number and email address 

Afterwards, choose your preferred payment method by proceeding to the checkout section.

After completing the payment, the Gems will be credited to your account.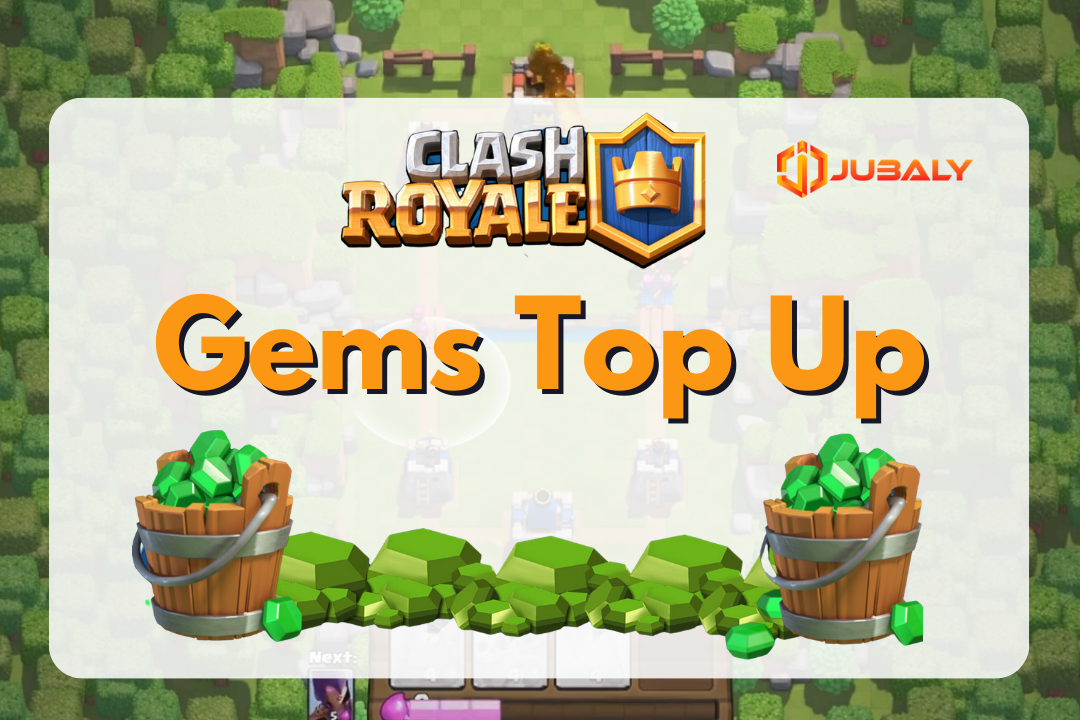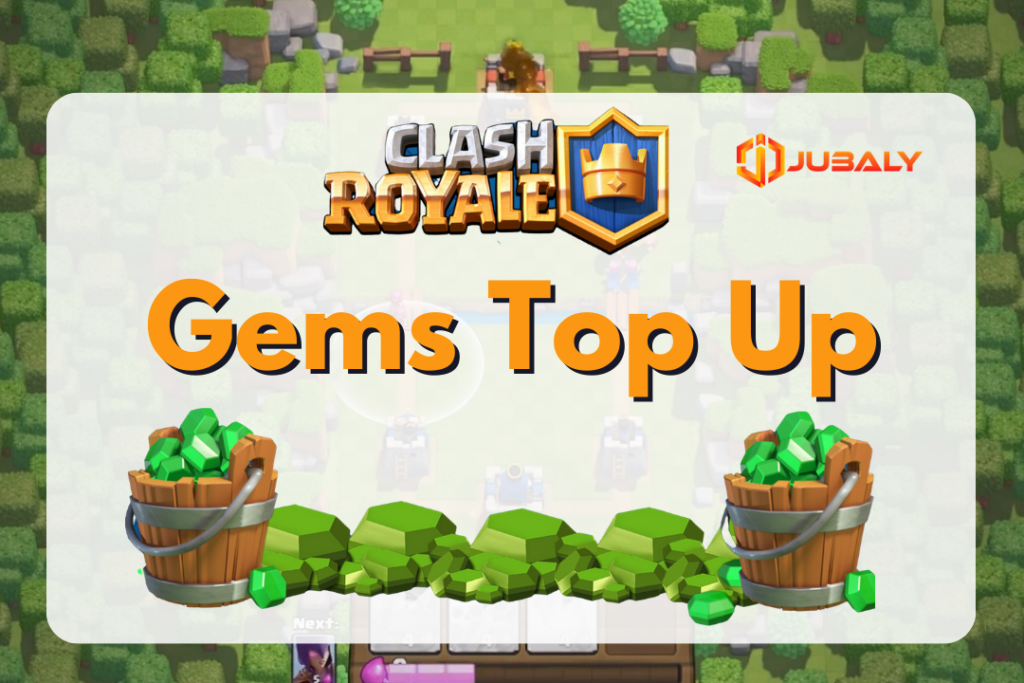 How To Find Clash Royale Player Tag
Finding your Clash Royale Player Tag will be easier if you follow the steps below:
On Your Device, open the Clash Royale game.

Your profile icon is located in the main screen's top left corner. Tap on your profile icon. Usually, the profile icon displays your current level and Arena.

You will find your Player Tag in your profile below your username. Your Player Tag combines numbers and letters, starting with a hashtag (#).

By tapping on the Player Tag, you can copy it. Or, for reference, you can take a screenshot.
Once you have it, you can use your Clash Royale Player Tag for various purposes. Using the Player Tag, you can clans or participate in tournaments.
Jubaly: Your Trusted Gaming Store
Undoubtedly Jubaly is your trusted gaming store for the following reasons:
A wide selection of games in Jubaly cater to numerous gaming preferences and genres.

Jubaly ensures legitimate and verified gaming codes and products on its platforms. The game's legitimacy will prevent future complications or potential issues.

User safety and security are Jubaly's priority. It implements encryption protocols and secure payment gateways for its players.

Jubaly aims to offer reliable customer support services

Jubaly helps users make informed purchase decisions by incorporating user reviews and ratings.
Overall, Jubaly positions itself as a trusted gaming store. It emphasizes various games, security measures, verified codes, and reliable customer support to provide an enjoyable and trustworthy gaming experience.
Why Choose Jubaly for Clash Royale Gems?
A player should consider Jubaly for Clash Royale Gems top-up for the following reasons:
Jubaly offers legitimate and authorized Clash Royale Gems. It ensures that your purchased Gems will be credited to your Clash Royale account without any issue.

It provides Clash Royale Gems instant delivery just after making the payment. Once the gems are credited to your account instantly, you can start using them.

Jubaly prioritizes your personal and financial information's security. It implements encryption protocols and secure payment gateways to protect your transaction data.

You will get Clash Royale Gems in Jubaly at the most competitive price.

Jubaly is well known for its reliability and customer satisfaction. As a trusted gaming store, it has built its reputation.
About Clash Royale
Supercell developed and published this popular real-time multiplayer strategy game Clash Royale. This game combines different elements, including card games, a multiplayer online battle arena, tower Defence etc. All these elements will provide you with an engaging and unique experience.
However, Clash Royale games come with the following key features:
Players play Clash Royale in real-time battles. In this battle, the players using a deck of cards, compete against each other. The deck of cards contains various units, spells, and buildings.

The goal is to defend your towers while destroying the opponent's three Crown Towers.

This game's fast-paced matches typically last for a few minutes. Therefore it becomes easy to jump in and play on the go.
About Clash Royale Gems
The Clash Royale Gems are a premium in-game currency in Clash Royale games. You can use this currency for various purposes. Learn some facts about Clash Royale Gems below:
You can acquire Clash Royale Gems BD in different methods like purchasing, rewards etc.

From the Jubaly in-game shop, using real-world currency, you can purchase the gems

Occasionally in free chests and crown chests, you can find Gems as rewards

If you can achieve certain things in the games, you can get Gems as a reward 
So throughout this guide, we have described how to elevate your Clash Royale Gems top up experience with Jubaly. Consider purchasing Clash Royale Gems from Jubaly. It will enhance your in-game progression and enable you to unlock various features.
Select the desired Gems package that suits your needs. Complete the transaction. Add the selected Gems package to your cart and proceed to the checkout process. Follow the provided instructions to complete the payment securely.
Other Top-Up Services We Provide:
Form Jubaly you can Top-Up Free Fire Diamond Bangladesh, Free Fire Diamond Global, Free Fire Diamond Indonesia, Free Fire Level Up Pass BD,  Free Fire Membership BD,  PUBG Mobile UC, Free Fire Monthly Membership, Mobile Legends, CLASH OF CLANS, SAUSAGE MAN, VALORANT POINT, ROBLOX ROBUX, CALL OF DUTY BC, LIKEE DIAMOND, BIGO DIAMOND