অর্ডার করতে পারছেন না? ভিডিও সম্পূন্ন দেখুন…
Game Description
Lords Mobile is a video game developed and published by IGG and is available to download on Android, iOS, and Steam. This game is free-to-play and offers in-app purchases. According to App Annie, the game is one of the top-grossing apps (strategy) on the App Store (iOS) and Google Play. The official description of the game states that it has more than 200 million players worldwide. Lords Mobile combines open-space RPG, real-time strategy, and world-building mechanics. Its gameplay consists of several game modes. The most notable of which are PVP-battles. Players should develop their own base and build an army in order to attack enemy bases, destroy them, seize resources, and capture enemy leaders. Usually, players can attack only enemies from their own kingdom, but during the Kingdom War (KvK), all servers (sometimes, only one selected by the system) are opened for attacks (excluding new servers which protected by shields). Players can attack monsters and other world bosses that periodically appear on the kingdom map in order to claim resources from them.
About Lords Mobile Diamonds:
Lords Mobile Diamonds are the official Lords Mobile payment currency. It is used for purchasing any Lords Mobile Gems Packages in the Lord Mobile game store or lords mobile diamond store. To top up Bangladesh mobile buy lords mobile gems and lords diamonds from any local game store in Bangladesh like jubaly.
How to top-up Lords Mobile Diamond:
Select the Diamond denomination that you wish to purchase.
Enter your IGG ID (Please refer to the guide below to get your IGG ID).
Select a payment method.
Complete the payment.
Diamonds will then be instantly added to your Lords Mobile account.
How to use Lords Mobile Diamond:
Download Lords Mobile APK via https://lordsmobile.igg.com/payment/.
Install the Apk file on your phone or emulator.
Log in to your Lords Mobile game account.
Purchase Gem Packages of your choice using the Diamonds.
How to Find Lords Mobile IGG ID:
Use your account to login the game.
Click on the Settings (Gear icon) on the lower right side.
Click on Account.
Your IGG ID will be displayed.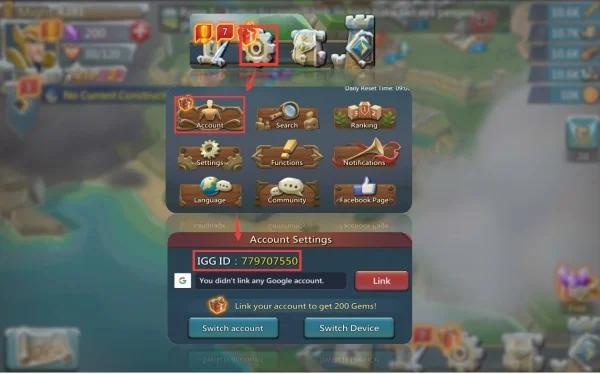 Lords Mobile Characters
Lords Mobile features over 50 characters known as Heroes. They are divided into three types: Strength, Agility (or Dexterity), and Intelligence. All Heroes are unique with different skills, attributes, designs, and backgrounds. The strategy of the game assumes the need to improve these characters and command different types of troops (infantry, ranged, cavalry, siege engine) for attacking any position and order on targets. Additional Heroes are available through in-game purchase bundles while the game's launch Heroes are all available by completing Hero Stages.
Lords Mobile Guilds
Players can join or create guilds in order to collaborate with other players regardless of location. Guildmates are able to assist their allies with build time and research time. They can also earn rewards for their allies by defeating world monsters and making in-game purchases.[5] Each guild has a leader (R5) who can assign the ranking and positions of the guild members. Guilds will have R4s whose duties vary depending on the guild, but typically involve deleting guild fest quests and allowing a member's alternative account in and out of the guild. The rank of leaders are R5 (highest) to R1 (lowest).
Lords Mobile Guild Fest
Guild Fest is a recurring event that takes place shortly after Kingdom versus Kingdom(KvK). During the week-long event, players select various quests to complete ranging from gathering resources off from tiles, and gaining several 19+ level essences from darknests (this should only be selected if they are a T3 player with no chance of ever being able to actually help win the nest), training troops, and completing Hell Events. Ultimately, the guild will be awarded prizes for their participation in Guild Fest. However, the monetary value of these free rewards does not correlate to the amount of money players likely had to spend in order to achieve their minimum required score.