অর্ডার করতে পারছেন না? ভিডিও সম্পূন্ন দেখুন…
Game Description
Lords Mobile is a free-to-play mobile strategy video game developed by IGG. It is available for Android and iOS devices. The game is set in a fantasy world where players take control of a castle, build up an army, and battle against other players in real time. In addition to building an army and attacking other players, players can also join guilds, participate in events, and fight in the Colosseum.
Lords Mobile features a variety of units, buildings, and technology to collect, upgrade, and customize. Players can form alliances with other players in order to form powerful guilds. Guilds can compete in weekly events, join tournaments, and participate in world wars. Lords Mobile also features a PVP arena where players can battle each other.
The game is regularly updated with new content, including new monsters, equipment, and features. Lords Mobile also features an in-game chat system where players can communicate with each other. Finally, Lords Mobile also has an in-game store where players can purchase various items in exchange for real-world money.
About Lords Mobile Diamonds:
Lords Mobile Diamonds are a premium currency in the Lords Mobile game. They are used to purchase premium items, speed up certain processes, and purchase boosts. Diamonds can be earned by completing certain tasks, such as winning battles or watching ads. They can also be purchased using real money. Diamonds can be used to purchase exclusive items, such as exclusive gear, rare troops, and special buildings. They can also be used to purchase boosts, such as increased speed in battles, increased experience points, and increased rewards.
How to Top Up Lords Mobile Diamond:
Select the Diamond denomination that you wish to purchase.
Enter your IGG ID (Please refer to the guide below to get your IGG ID).
Select a payment method.
Complete the payment.
Diamonds will then be instantly added to your Lords Mobile account.
How to Use Lords Mobile Diamond:
Download Lords Mobile APK via https://lordsmobile.igg.com/payment/.
Install the Apk file on your phone or emulator.
Log in to your Lords Mobile game account.
Purchase Gem Packages of your choice using the Diamonds.
How to Find Lords Mobile IGG ID:
Use your account to log in to the game.
Click on Settings (Gear icon) on the lower right side.
Click on Account.
Your IGG ID will be displayed.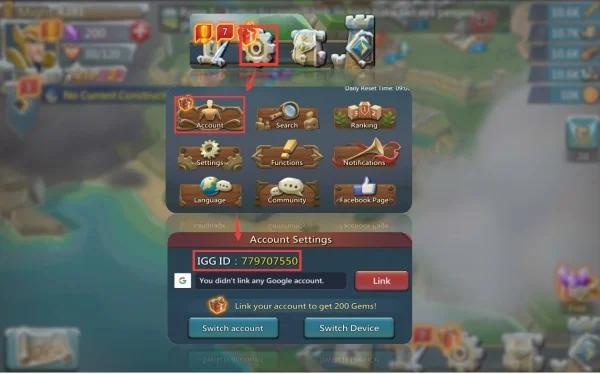 Lords Mobile Characters
Lords Mobile is a free-to-play mobile strategy game developed and published by IGG. The game features a wide variety of characters, each with their own unique abilities.
The game's main characters are known as Heroes, who are the player's main force in battle. Heroes come in many different forms, from powerful warriors to magical spellcasters. Each Hero has a unique set of abilities and stats that make them ideal for specific battle scenarios.
In addition to Heroes, players can also recruit troops to join their army. Troops come in a variety of forms, including infantry, cavalry, and archers. Each troop type has its own strengths and weaknesses, and the combination of troops can be used to create powerful formations for battle.
In addition to troops and heroes, players can also recruit monsters to join their army. Monsters are powerful creatures that can be used to bolster a player's forces in battle. Monsters come in many different forms, from dragons to giant insects.
Finally, players can also recruit legendary characters, who are powerful heroes with unique abilities. Legendary characters can be used to turn the tide of battle in a player's favor. They can also be used to unlock powerful items and upgrades that can help a player progress further in the game.
Lords Mobile Guilds
Lords Mobile guilds are online clans of players in the popular mobile game, Lords Mobile. Guilds allow players to join together, collaborate, and fight against other guilds. The guild leader is responsible for managing the guild, setting up guild events, and recruiting new members. Guilds have their own chat rooms, where members can communicate and strategize, and have their own leaderboards, where members can compete for bragging rights.
Guilds can also join forces with other guilds to form alliances, which can help guild members win rewards, such as extra coins and items, or access to exclusive content. Guilds can also participate in guild wars, where all members of the guild battle against other guilds in an attempt to win rewards and glory.
Lords Mobile Guild Fest
The Guild Fest is a major event in Lords Mobile, a mobile strategy game. It is a celebration of the bonds of fellowship that exist between players. The event takes place in two stages: the Preparation Phase and the Battle Phase. During the Preparation Phase, players work together to complete tasks and gather resources. The Guild Fest also includes special events such as the Guild War, which pits guilds against each other in a competition for dominance. During the Battle Phase, players use their gathered resources to build up their castles, troops, and defenses in order to win the war. The winner of the Guild Fest is the guild that has earned the most points. Players can win rewards such as gems, equipment, and even exclusive skins.