How to purchase Teen Patti Gold in Jubaly:
First, select the Amount denomination.
Next, enter your Teen Patti Player ID.
After that, check out and choose your payment method.
After payment is made, the Gold you purchased will be credited to your account within 30 minutes.
How to find Teen Patti Gold Player ID?
Please login to your account in the  Teen Patti Gold App.
Tap the setting icon in the Top-Right corner of the screen.
You will find the Player ID in the bottom of the settings screen.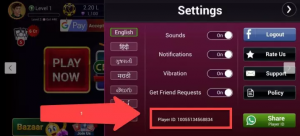 Game Description
Many many Variations as Joker, Hukam, Muflis, Royal, AK47 & Potblind Are U lucky? Try your luck on Deluxe Tables with 4X Boot. Change tables and try to break the monopoly of Big blinds. Try Teenpatti Tournaments at exotic locations. Want to play Flash, Flush, 3 Patti, Indian Poker, Indian Holdem Poker? It is Teen Patti Invite your Friends & Family to play on Private Tables the most popular Indian Card Game Teen Patti Gold Don't have internet? Play Teen Patti Gold on Hotspot/Wifi Best among all flash games. Such a fun game!